A little update and a bit about me
Hello everyone, how are you all? I've been absent on here lately, life has taken a few turns, all for the better and I find myself pulled into so many directions that I've dropped the proverbial ball here.
I feel that I owe you all an explanation for my interior hiatus and to do so I feel you need to know a little more about me. No one has complained about the sudden disappearance of the blog and the many missing Instagram posts, however if the shoe was on the other foot, I would be miffed, want an explanation and would be too polite to ask for one. I realise that says more about me than perhaps this blog post will unveil….
Who am I? This is a loaded question and one that I answer differently to different people on different days. I wear so many different hats, some of which are either confidential, complicated or complex to explain so I tend to tailor the information to the audience or person that I'm talking to. Someone on my governance board for instance, does not need to hear me ramble on about my skincare writing when they first meet me. So here goes, a little bit about me.
I'll start with my age as I am asked this A LOT. I'm not sure if it's because I look young? But I encounter this question on an almost weekly basis. I'm born in the spring and am 32. I have 3 children, all girls aged 2, 9 and 11, though not all were born from my body. However, at the end of looking after them each day it can feel like I've given birth all over again. The sheer mental and physical exhaustion of performing daily child care duties is so underrated and something no one every really prepares you for. 
All birth control should come with the following warning label; Beware! Having children is hazardous to your health. You will be so tired at the end of the day that you'll resort to eating dry pasta from the pan over the kitchen sink whilst you serious consider just buying new pots in place of washing up, as even the thought of having to complete another domestic task is likely to tip you so far over the edge you don't know if you'll ever return from it. I mean it would have to be in really small writing, but  a totally truthful representation of parenthood and I think it'd be worth it.  
I work for home with no house or work help. I bloody wish! I don't have a nanny, house keeper or cleaner and I would feel no shame or guilt in having these things. I would happily throw money this way to free up my time and mind, but alas this is not a position I currently find myself in but as soon as I do, I will. Why do we feel guilt and or shame as mothers when it comes to raising kids and domestic life? I like to try and live my life by this little motto every time I feel the guilt creeping in; if the men are not worrying / feeling bad / upset about this then why should I? it instantly frees up my mind to concentrate on more important things and gives me an immense sense of mental wellbeing. I urge you to try it the next time mum guilt creeps in.
I am political and lead a London branch of the Women's Equality Party (Equality is better for everyone!) I set campaign strategy, write press releases and canvass amongst other activist shenanigans. I am council member, product tester and writer for the Black Skin Care Directory, Safeguarding Governor for a large Multi-chain Academy Trust and have a few other roles that I can't document here.
I work mainly in the early hours of the morning before everyone rises, in the afternoons when This Kids naps (oh how productive you can be against a 1.5 hour ticking clock) and late into the night, with the majority of my work getting done during the 7 hours the smallest attends nursery on a Friday and the weekends when the majority of childcare falls to my husband.
I am renovating my second property without the help of a team of trades men. My dad is a builder by trade and I employ him to carry out all of the skilled work such as plastering, electrics and plumbing, the rest of it is up to me with the occasional bit of help from my husband with the hanging of lights and removing wallpaper, as these are the crap jobs that I hate and like to pass on. It's a win win situation really as he feels like he's contributing, and I don't lose my hair through the stress of seeing him wielding a paint brush. Oh my god I've never known anyone so unable to paint within a clearly defined space without going widely out of the lines. Mid way through it resembles something like this and by that point I'm too stressed out to laugh at the absurdity of it all.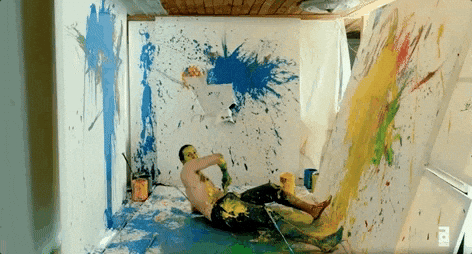 We near divorce every time he even so much as looks at a paint brush so I'm happy to take the reins in this area.
Having a builder in your immediate family isn't as great as you would think. I don't pay my dad market rate for his work so am at the bottom of the work pile for him. It can be a herculean effort to get him to agree to work in the first place, I never know if he will actually turn up on the days he says that he will, am frequently replaced for a better paying job and have to wait weeks for him to be on site again. Builders huh, you can never find a good one! On a serious note my dad has over 35 years' experience in this trade, is a complete super star and his work is first rate. However I won't be sharing his details with you as then you'll all want him, and I'll be even further down his list!
I am not telling you all this to gain praise, kudos or anything like that however I feel it's important to share how we cope and balance family life with our work as from the outside it can seem like some have it all sorted and when you're feeling particularly crap, or just a bit low you can start to question your capabilities and compare which is never healthy. Is my life manic? Yes. Do I enjoy it? The majority of the time, yes. Would I change it? No. I have bad days just like everyone else and know that I could drop a few of my roles to make life easier, but then I'd be unfulfilled and end up getting myself into all sorts of mischief.
Interiors
Things are progressing well on this front however I am now only offering colour consultations to clients via Skype, email or in person to homes local to me. I am of course open to full styling work on projects that I find exciting and for individuals where the work would be varied and interesting. This work takes a lot of time and creative effort which I enjoy but can detract from my other work, so I am taking this selective stance to preserve my sanity and my professional integrity. I feel it's better to put out a small amount of work in this area that is great rather than spread myself even thinner and deliver something I am not 100% happy with. I am privileged that I can be selective in this area and understand that this isn't the same for others. If that's your hustle then I wish you all the best, it's just not mine.
What you can expect from me.
1. Friday Fever posts. I conducted an Instagram poll a few weeks ago where 100% of you voted to keep the posts weekly. I am thrilled that you are enjoying the content I'm creating however with my schedule; weekly posts are now just too optimistic. I would rather present you with a fully researched, considered and well written piece every fortnight rather than you get some inane ramblings with a few pictures attached one week when I haven't had enough time, and have thrown something together just to get the copy out.
2. Monthly interviews with the artists and designers that create all of the interior goodies that we love. This is the feature I am most excited about and the piece that is most labour intensive. I have some really great people waiting in the wings and hope that this will become an interactive feature with you contacting me to let me know who you would like me to interview and I will open up my questions to include some from you too.
3. I will be adding a life style section to the blog. I am lucky that I get to experience and test a lot of products, places and services with the work that I do and think that some of it would be of interest to you. Don't worry the posts will be carefully curated, you won't just have my local Friday night goings on to read about – who am I kidding in this regard. My Friday nights are mostly spent in my office or painting. However, when I do experience something that I feel will be of benefit I'd like to share it. Any services or products that I have received for free or are paid for will of course be marked GIFT, AD Etc.
4. A monthly newsletter to my website subscribers rounding up all that has gone on that month straight into your inbox for you to devour in one fail swoop like a magazine, which you can then dip back into when you wish without having to navigate all of the various tabs on the website. Is this something that you would want? Or is your inbox already full with 463 unread messages (hangs head in shame) and you would rather not have my little newsletter add to your task list.
5. The website is getting a full overhaul during the next few weeks to correctly represent where the business is, my skills and what's going on in the interior world in an easier less clunky format. I will be conducting this work myself (!) and fully expect there to be some issues during this time. I am hoping that I don't lose all my work like I have done with writing this blog post (this is my second attempt as the first just magically disappeared) so if any of my readers are website whizzes I would really appreciate some advice
Aaannnndd, I think that's it. I hope that has cleared a few things up and given you insight into my plans for the blogs future, the content I create and a little understating of me.
If there is anything you would like featured on the blog, if you don't like any of it and would like me to explore over avenues please leave me a comment or send me a DM via Instagram. 
If you have enjoyed this and want to know more about me, I may do some form of  Q&A on Instagram so you can get to know me a little more. Next week we have the return of Friday Fever and the week after that is the start of my Meet The Artist Interviews featuring the fantastic Sian Elin so enjoy what is left of your weekend, and I hope to see you back here next week. 



Please reload